Cross necklaces hold a special place in the hearts of many women, symbolizing faith, love and personal beliefs. Whether you choose a cross necklace for yourself or as a thoughtful gift, it's important to find the perfect piece that matches your style and sentiment. In this guide, we'll explore three exceptional cross necklaces – the Angel Cross, the Belt Cross and the Classic Cross – each with its unique charm, materials and design. Let's embark on a journey that will help you choose the perfect cross necklace.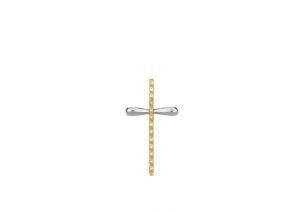 ANGEL CROSS is a testament to elegance, combining 14K white and yellow gold with colorless stones to create a harmonious piece. This cross exudes sophistication and versatility, making it a great choice for both everyday wear and special occasions. Its availability in various color combinations allows you to choose the one that matches your personal style. The Angel Cross is a symbol of timeless beauty and an ideal choice for those who appreciate the charm of classic jewellery with a modern twist.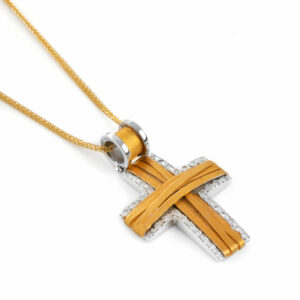 If you are looking for a cross necklace that exudes glamour and luxury, the Band Cross is a wonderful choice. Crafted from 18K yellow and white gold, it features 0.33 carats of round-cut brilliant-cut diamonds, adding exceptional sparkle to your outfit. The shimmer and grained finish of the gold creates a captivating texture that adds depth to the design. This cross necklace is perfect for those seeking a statement piece that embodies both opulence and grace.
For lovers of classic, timeless elegance, the Classic Cross is a masterpiece crafted in 18K white gold. Adorned with 0.80-carat round Huit-cut diamonds, this cross necklace exudes a sense of understated luxury and enduring beauty. The precision of its design and the brilliance of the diamonds make it a treasured piece for special occasions or everyday wear. The classic cross represents a commitment to tradition and an appreciation for enduring style.
Choosing the perfect cross necklace is a deeply personal journey. Each of these exquisite crosses offers a unique blend of materials, design and symbolism. Whether you are drawn to timeless elegance, sparkling diamonds or a harmonious combination of gold and stones, there is a cross necklace to match your style and values. As you make your choice, remember that your cross necklace will not only enhance your attire, but will also serve as a daily reminder of your faith and beliefs, making it a truly meaningful and valuable accessory.